10kv, 35kv Three Phase on Load Tap Changer Transformer
1. Brief Description
SZ11 series on-load-tap-changing
oil-immersed transformer
is an upgraded product developed based on S11 series oil-immersed transformer. The voltage fluctuation and load change of power grid lead to fluctuation of output voltage of transformer during the running. If the voltage is too high or too low, the electric equipment will fail to work normally and even be burnt, and the insulation and efficiency of the transformer will be influenced. To ensure the variation of the output voltage within a reasonable range, voltage regulation is necessary. The product may operate the on-load tap changer manually or automatically to regulate the voltage when it is loaded, or realize remote voltage control through a controller.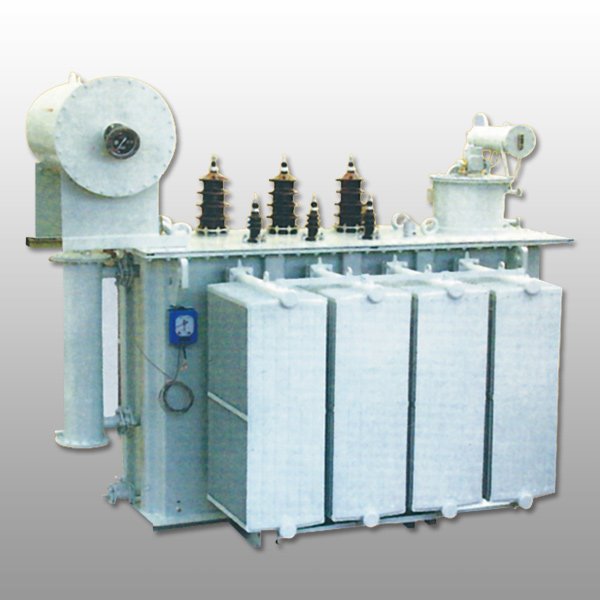 2. Application Scope
The product applies to the users who require stable voltage and the voltage fluctuation of power grid is big.
3. Model Description

4. Standards
GB 1094.1, GB 1094.2, GB 1094.3, GB 1094.5,
IEC 60076-1:2000,IEC 60076-2:1993, IEC 60076-3:2000, IEC 60076-5:2006,GB/T 6451,GB/T 20052,etc
GB 1094.1, GB 1094.2, GB 1094.3, GB 1094.5,
IEC 60076-1:2000, IEC 60076-2:1993, IEC 60076-3:2000, IEC 60076-5:2006,
GB/T 6451, GB/T 20052, etc
5. Normal Service Conditions
Height above sea level: Not greater than 1,000m;
Ambient temperature: Maximum temperature: +40ºC;
Maximum daily average temperature: +30ºC;
Maximum annual average temperature: +20ºC;
Minimum outdoor temperature: -25ºC;
Installation environment: ground acceleration caused by earthquake: ag<2m/s
6. Features
(1) On-load voltage regulation is possible, thus providing users with stable voltage output.
(2) The low voltage adopts foil winding, thus enhancing the ability of the transformer to withstand the sudden short circuit; as the low voltage adopts copper foil winding, the electric field distribution of transformer is uniform. The low-voltage inner frame adopts formed hard paper tube, while the high-voltage outer half lap is wound with tasteless glass adhesive tape layer by layer. The compression pad adopts the laminated wood, thus enhancing the mechanical strength of the transformer. The transformer uses vacuum oil filling, which may totally eliminate the bubble in the coil, so as to improve the overall ability of the transformer to withstand the sudden short circuit.
(3) The tank rim adopts stainless steel bolts, with beautiful appearance.
(4) The sealing elements adopt formed parts, with the sealing reliability of the transformer enhanced.
Company Profile
Yuebian Electric Co., LTD is a professional electrical manufacturer engaged in power transformer up to 35kv and other electrical equipment. For instance,
amorphous alloy power transformer
, dry-type transformer, oil-immersed transformer, with type, combined transformer substation, high and low voltage complete switchgear, rectifier transformer, electric furnace transformer, mining and another special purpose transformer. After nearly 10 years of development, Yuebian Electric has now become one of the major suppliers of Chinese state grid and the southern power grid.
Yuebian electric is located in Yueqing City, Zhejiang Province. As the forefront of reform and opening up, Yueqing provides us convenient traffic conditions. Our Industrial park covers an area of 20000 square meters, and the annual design production capacity is almost 300 million dollars. The modern garden-like factory has several functions, for example, production, technology development, staff living, learning, and entertainment. Hereinto, production plant owns 2 spacious and bright body building, 11 workshops, and more than 260 sets of advanced production and testing instruments, which guarantee the high quality of our products; Perfect function design of the complex and the r&d center adopt ERP management system which provide an advanced platform for e-commerce, operations management, and the product innovation; At the same time, our quiet and graceful staff living area provides employees with a comfortable living environment which owns dine, entertainment, information, learning, and other functions
Currently, Yuebian electric has more than 30 senior engineering and technical talents, including 5 senior engineers. The strong technical force provide us with effective guarantee about product research and development. The company has got the certification of ISO9001:2008 quality management system.
Contact Information:
Name: Rayzen He(Mr.)
Mobile: +86 13506557391
Yuebian Electric Co., Ltd.
Add: Jiedai Industrial Zone,
Yueqing City,
Guangdong Province,
China
Web: www.zjyb-electric.com
Tel: 86-577-62566535
Fax: 86-577-62513338
Zip Code: 325600