General introduction of distribution transformer
Combined transformer,also named pad-mounted transfer, is well applied in power plant substation with low voltage device, high voltage device, transformer and other components integrated, greatly recognized by its functional and energy saving properties.
Product features(advantages ):
A. Excellent cooling and drying system
Equipped with humidity control system and temperature control system,ZGS11-H(Z) Combined Transformer can generate automatically once the temperature or humidity reaches certain levels to maintain the safe condition inside the tank.
B. Strong tank protection
In order to protect the devices to the greatest extent, we choose stainless steel as the raw material of the sealed tank with special design. The high quality sealed tank is a good guarantee for heat reduction inside the transformer.
C. Excellent cooling and drying system
The great advantage of our combined transfer is easy installation, all you need to do is connecting the cables, which is operable for anyone. And it is maintenance-free for its fully sealed transfer design.
D. Safe
Yuebian always put safety in the first place. All our devices are isolated by thick steel board to avoid any chance of accident.
E.Lower cost and higher efficiency
ZGS11-H(Z) Combined Transformer is well-recognized for its low cost and higher efficiency. Compared with traditional distribution house, it is cheap and energy-saving. And it doesn't take much space, only covers about 3cbm.
F. Functional and reliable
With two ways of power supply, you can choose whether loop/dual power supply or terminal power supply, our combined transformer can work as a substation.
G. Easy installation and maintenance
Only need to connect the cables to transformer.The transformer is in fully sealed tank design to keep the oil away from the air,It's free of maintenance.
Product Certification of Zgs11-H(Z) Combined Transformer: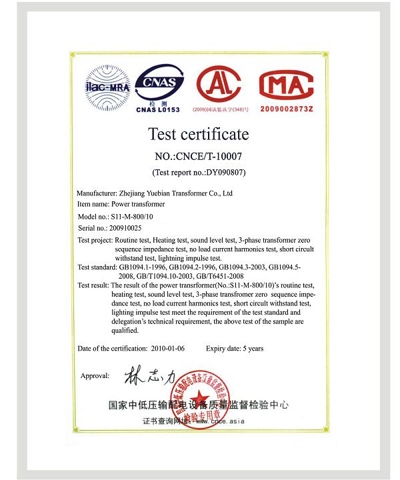 Deliver and shippment:
Sea transportation. 1 set Transformer per wooden carton.
Production process: